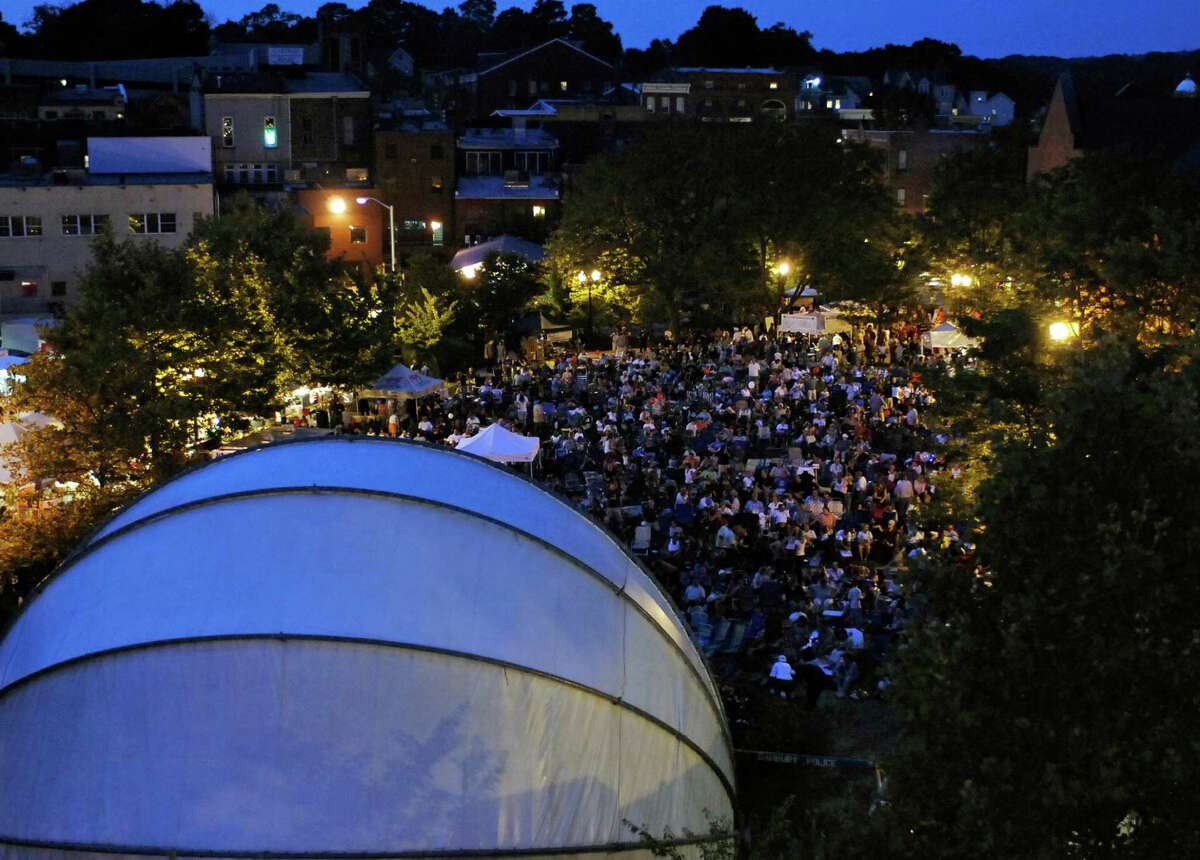 Savings Bank of Danbury invites you to Join us on the rooftop of Danbury's Patriot Garage. Authentic Peruvian and Jamaican eats provided by Empire of the Incas and Opal's Kitchen. Two flavorful and distinct ethnic cuisines to satisfy your tastes. Enjoy performance featuring Pilobolus and their interactive movement training entitled Connecting with Balance to help us reconnect with our bodies and environment. No experience needed, promise! In addition, a special performance art art piece choreographed by Raymond Pinto will offer subtle emergence of abstract movements of leisure with jazz modalities.
We are proud to partner with IMPAC and bring you an amazing photography exhibit entitled The Ethereal Collection for your enjoyment and to purchase in support of their mission. Live Music provided by John Fazio, Jr., organizer of 2021 Make Music Day Danbury. Come outdoors with us. Let's connect with creativity and the community! 
EMPIRE OF THE INCAS
Empire of the Incas Restaurant of Danbury has been serving some of the best Peruvian cuisine since 2005. The restaurant serves traditional dishes, from steaming plates of lomo saltado and anticuchos to ceviche mixto, a favorite national dish. Peruvian cuisine is an eclectic fusion "… of Japanese, Chinese and Korean (cuisine)," and is popular for its exciting blend of spices and flavors.
Menu options
Ceviche
Your choice of seafood cooked in fresh lime juice with red onions, garlic & cilantro. Choices: White Fish • Shellfish* • Shrimp • Everything!
Lomo Saltado
Your choice of meat or seafood stir-fried with red onions & tomatoes mixed with french fries. Choices: Beef • Chicken • White Fish • Shellfish* • Shrimp
Arroz Chaufa
Peruvian fried rice with chopped red peppers, scallions, garlic, scrambled eggs & your choice of meat or seafood. Choices: Beef • Chicken • White Fish • Shellfish* • Shrimp
Opal's Kitchen
Bona fide and authentic Caribbean food from Opal's Kitchen located in Danbury, CT and offers catering services since 2015. A destination for many throughout Connecticut, Owner and Chef, Andre is known for his honey glazed sweet and spicy chicken; Jerk Pork, Rasta Pasta, and so much more!
Menu options
Your choice of the following:
Honey glazed sweet & spicy chicken
Jerk Salmon
Curry boneless chicken
Note: all meal options includes a side of Rasta pasta and steamed cabbage.
Creativity and Connecting
Connecting with Balance
Connecting with Balance is an interactive workshop tailored to help people of any age reconnect with their bodies and environment. Exercises in mobility and balance encourage participants to maintain and improve balance, think creatively, and build community through social engagement. This class is open to all levels of ability. No previous experience is required, and no special equipment needed.
ALRAUNE
ALRAUNE (1975)   (DUET/08 Minutes)
Choreographed by Alison Chase and Moses Pendleton
Music: Robert Dennis
Costumes: Malcolm McCormick
Lighting: Neil Peter Jampolis
New Creation by Raymond Pinto, performed by Ysanne, Daniel O'Neil, and Reily O'Neil. 
"Inspired by the three performers included in relation to the dynamic instances of pneumatic expression they are able to achieve. As a work in progress, I invite the public to witness the splendor of the caliber of these artists."
Landscape and Nature Photography: The Ethereal Collection.

Available in selective size formats, limited edition prints.
The Ethereal Collection features picturesque, breathtaking scenes of Sri Lanka, Photographed by Iresh Udayanga. These astounding images are being sold in support of families, communities and human service organizations existing in low-socio economic, underserved settings.  Immediate project includes, missions' trip to the Dominican Republic, August 7-14, 2021, where five hundred families, combined from the cities of Tamboril, Santiago and Santo Domingo will be aided with food, clothing, medicine, educational supplies, care packages and other COVID-19 support.
Peruse the gallery to make a purchase in advance. Then pick up your photograph on June 13th! Unsold photographs will be available for viewing on the rooftop at the event. 
ABOUT PILOBOLUS
Since 1971, Pilobolus has tested the limits of human physicality, exploring the beauty and power of connected bodies. We bring this tradition to global audiences through collaborations with incredible influencers, thinkers, and creators – and we reach beyond performance, bringing storytelling expertise to diverse communities, brands, and organizations, through designed exploratory experiences. Pilobolus has created over 120 pieces, performing for 300,000+ people each year. Honors include a TED Fellowship, a Grammy® Nomination, a Primetime Emmy® Award, and several Cannes Lion Awards. Pilobolus has collaborated with over 75 brands and organizations, creating bespoke performances for television, film, and live events.
ABOUT RAYMOND PINTO
Raymond Pinto, 29, was born in Bridgeport, Connecticut. He studied dance and
graduated from the Juilliard School in 2013. He was awarded a Princess Grace
Foundation Award in 2012 for his achievement as a dancer and was a Young Arts
Award winner in 2009. He has worked with internationally touring dance companies
such as Les Grandes Ballet Canadien de Montreal, Cedar Lake Contemporary Ballet,
The Royal Ballet of Flanders, The Phantom of the Opera on Broadway, and the Ballet
Nacional de Marseille. Throughout his career as a professional dancer, he has been
grateful to work with and perform the works of notable choreographers and artist a
like. As an artist himself, Raymond has presented his own works at festivals,
theaters, galleries, workshops, and conferences both locally and globally. He is
currently an artist in residence at Movement Research in NYC, where he his
scheduled to present work at the historical Judson Memorial Church later in 2021. In
addition to creating new performance art works, Raymond is also completing his
Master's Degree with a focus in Performance Studies at New York University. 
ABOUT IMPAC
International Missionary Performing Arts Community (IMPAC) founded in 2016 by Jermaine Bolton. The vision of the company initiated out of his interest to serve families, communities, entities existing in socio-economic, underserved settings similar to the one in which he was raised. Gifted in the performing arts, Bolton saw it fit to combine passion with desire, meaning; he sought to execute humanitarian/missionary causes, using the arts he loves as a vehicle to make a difference.